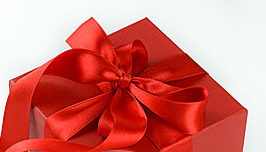 With Thanksgiving around the corner, the holidays and New Year are fast approaching. This is traditionally a time when we think of others, and consider many of the people, experiences, and things we are thankful for. While trying to make sure we don't forget anyone else, sometimes we forget to take care of ourselves. A gift to ourselves – whether small or large – can make a significant difference in lifting our mood, keeping a smile on our faces and not allowing the (inevitable) stress to impact our disposition during the upcoming holiday season.
If you're thinking about treating yourself to a plastic surgery procedure, remember that your most important motivation should be your own. Although support from your family or friends can be helpful, you should always be true to your own wishes and interests: do it for yourself, not anyone else. The decision is ultimately one that you make with your plastic surgeon, and you should feel comfortable and happy with going ahead. Some plastic surgery procedures have been shown to boost a patient's self-esteem, and it is with that aim in mind that you should choose to proceed.
Whether you're thinking about a quick fix with minimal downtime to improve your appearance, such as Botox, fillers, or skin resurfacing; a minimally invasive surgical procedure such as liposuction or fat injections; or a more complex surgery such as breast augmentation, breast lift, tummy tuck or mommy makeover – enhancing your appearance often makes you feel better as well. So give yourself the gift of cosmetic surgery or include it as part of your New Year's resolution this year.
Dr. Olivia Hutchinson is a board certified female plastic surgeon in NYC with a practice dedicated to aesthetic plastic surgery of the face, breast and body. Her office on Manhattan's Upper East Side is equipped with a fully certified AAAASF Operating Room for the safety, comfort and privacy of her patients. To schedule a consultation with Dr. Hutchinson, please contact us or call us at (212) 452-1400.
Posted in: Medical News