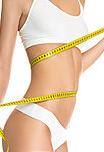 Plastic surgery is an art and a science, and as an artist the plastic surgeon aims to create a beautiful result for the patient. When it comes to body contouring, several procedures allow patients to obtain the look they wish to achieve. Women may be concerned about the shape or size of their breasts, loose skin around their belly, arms, or thighs, or stubborn fat on the abdomen and flanks, hips, and legs. Men may also have concerns about body shape, most often love handles or enlarged breasts (gynecomastia).
The following plastic surgery procedures can produce significant improvement in body shape and contour. For women, most common body sculpting procedures are:
Men may benefit from the following procedures aimed at improving their torso and fix common problem areas:
gynecomastia surgery to correct enlarged breasts and remove excess skin
liposuction to eliminate double chins, or remove excess fat from around the flanks and abdomen
total body lift to reshape the lower body after significant weight loss
If you're considering improving any part of your body with plastic surgery, consult with a board certified plastic surgeon who has expertise in aesthetic surgery procedures.
Dr. Olivia Hutchinson is a top rated board certified female plastic surgeon in New York City with advanced fellowship training in aesthetic plastic surgery. Her practice on Manhattan's Upper East Side is dedicated to cosmetic plastic surgery of the face, breast, and body. Dr. Hutchinson's office off Park Avenue offers a fully AAAASF certified Operating Room for the safety, convenience, and privacy of her patients. To schedule a consultation, please contact us or call us at (212) 452-1400.
Posted in: Abdominoplasty - Tummy Tuck - Liposuction, Body Contouring, Breast Augmentation, Breast Lift, Breast Reduction, Gynecomastia, Labiaplasty, Love Handles, Male Breasts, Male Chest, Manhattan Plastic Surgeon, New York City Breast Plastic Surgeon, Plastic Surgery for Men, Tummy Tuck