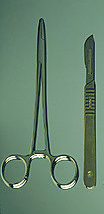 Patients have an enormous amount of information they can sift through when trying to choose which plastic surgeon they want to perform their operation. The following questions should be asked and answered prior to your surgery:
What is your plastic surgeon's education and training?
Is your surgeon board certified by the American Board of Plastic Surgery?
How many years of experience does your surgeon have?
Did your surgeon have any additional fellowship training? If so, in which subspecialty?
Does your surgeon have an academic appointment and hospital privileges?
Is your surgeon a member of the American Society of Plastic Surgeons (ASPS) and American Society for Aesthetic Plastic Surgery (ASAPS)?
Other questions which are at least as important, if not more so, attest to the plastic surgeon's skills and judgement in the operating room. Surgery is a manual profession that relies on dexterity and tactile input, since surgeons use their hands during surgery. Plastic surgeons, and especially cosmetic plastic surgeons, also have to apply aesthetic concepts when performing surgery. It truly is a complex blend of art and science.
So how do you know how good your surgeon really is? Results certainly give an indication of how plastic surgeons perform, and this relationship is now being quantified. A new study from the New England Journal of Medicine (1) seeks to evaluate whether a surgeon's skill is related to results of surgery, as demonstrated by surgical outcomes. Although limited to bariatric surgery (weight loss surgery such as gastric bypass), the study found a correlation between the surgeon's proficiency and complication rate. Surgeries performed by surgeons who were rated to be technically better were associated, in general, with fewer complications, shorter surgery time, and less reoperations. These findings may also prove true for plastic surgery procedures such as an eyelid lift, breast augmentation or tummy tuck.
Dr. Olivia Hutchinson is a board certified female plastic surgeon in NYC with a practice dedicated to aesthetic plastic surgery of the face, breast and body. Her office on Manhattan's Upper East Side offers a fully certified AAAASF Operating Room for the safety, privacy and comfort of her patients. To schedule a consultation with Dr. Hutchinson, please contact us or call us at (212) 452-1400.
1. Birkmeyer, J, et al. Surgical Skill and Complication Rates after Bariatric Surgery. N Engl J Med 2013; 369:1434-1442 October 10, 2013 DOI: 10.1056/NEJMsa1300625
Posted in: Medical News