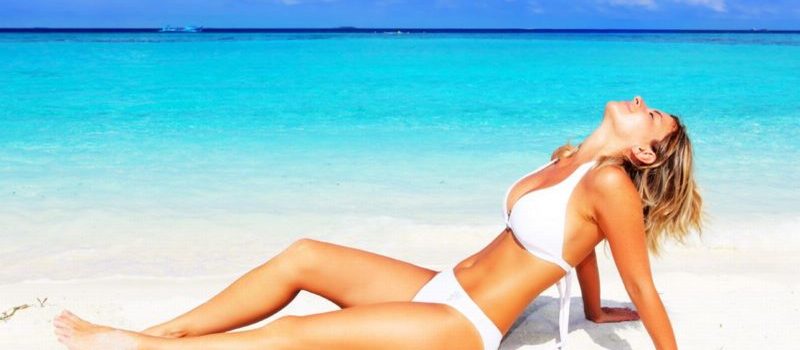 The sun is out, the temperature is rising, and it feels like summer. Memorial Day Weekend marks the unofficial start of the summer season, which means less clothing and more skin showing. What are the best ways to get ready for the heat, sand, and surf?
Sun protection: Most important in the anti-aging battle is defense against damaging UV rays, which contribute to thin, crepey skin, increased pigmentation (sunspots, freckles, and keratoses), and overall aged skin appearance. Load up on sunscreen with SPF of at least 45, and don't forget a hat, sunglasses, and the beach umbrella.
Lose the fat and improve your curves with body contouring: While non invasive treatments can achieve modest results, liposuction remains the gold standard for removing stubborn pockets of extra fat that don't go away with diet and exercise. Men most often seek to get rid of their gynecomastia (man boobs) or love handles, whereas women usually look to remove excess fat from their tummy or thighs (saddle bags). The cosmetic procedure is usually performed under twilight anaesthesia, with a quick recovery and minimal downtime. Here's the best part: the fat cells that are removed with surgery are gone forever. Excess skin can be removed by excising loose skin and reshaping sagging tissues with a tummy tuck or other body lift procedures.
Give your bust a boost: Breast augmentation with saline or silicone implants provides immediate results with increase in breast size and improved self-image. Whether you're looking to restore breast shape and size after pregnancy and breastfeeding as part of a mommy makeover, or simply to enhance your cup size, breast implants are the best option for breast enlargement and come in a wide range of possible sizes.
Quick fixes: Short on time? Botox, fillers, and other in-office skin treatments deliver immediate improvements with little to no downtime. If you're interested in eliminating wrinkles, smoothing out frown lines, forehead creases, or crows feet, Botox can deliver fantastic results. Botox will also eliminate excess underarm sweating (axillary hyperhydrosis). For lip augmentation, adding volume to cheekbones, or filling in laugh lines, hyaluronic acid fillers such as Juvederm are excellent options. Fat injections are similar to fillers and can produce more permanent results.
Choose a board certified plastic surgeon who has experience and expertise in aesthetic treatments. and make sure to discuss all available options to decide which is best for you.
Dr. Olivia Hutchinson is a top rated female board certified plastic surgeon in New York City with a practice dedicated to aesthetic plastic surgery of the face, breast, and body. Her office on Manhattan's Upper East Side in NYC is equipped with a fully certified AAAASF Operating Room for the safety, privacy, and convenience of her patients. To schedule a consultation with Dr. Hutchinson, please contact us or call us at (212) 452-1400.
Posted in: Abdominoplasty - Tummy Tuck - Liposuction, Aesthetic Plastic Surgery NYC, Allergan Breast Implants, Allergan Natrelle Breast Implants, Anti-aging, Body Contouring, Botox, Breast Augmentation, Breast Enhancement, Breast Enlargement, Breast Implants, Facial Creases, Lines and Wrinkles, Fat Grafts - Fat Injections, Fat Removal, Fillers to Regain Youthful Face, Forehead Wrinkles, Frown Lines, Gynecomastia, Juvederm, Juvederm Ultra Plus, Labiaplasty, Lifted Breasts, Liposuction, Liposuction Midriff and Waist, Loose Skin, Love Handles, Male Breasts, Male Chest, Manhattan Breast Implants, Manhattan Breast Plastic Surgeon, Manhattan Plastic Surgeon, Mentor Breast Implants, Mommy Makeover, Nasolabial Folds, Natural Breast Implants, New York City Breast Implants, New York City Breast Plastic Surgeon, New York City Plastic Surgeon, Plastic Surgery for Men, Plastic Surgery in Teenagers and Adolescents, Plastic Surgery in Younger Patients, Pregnancy and Weight Gain, Saggy Breasts, Saline Breast Implants, Silicone Breast Implants, Skin, Skin Rejuvenation, Tummy Tuck, Uncategorized