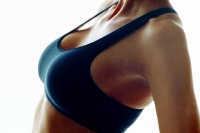 Breast implants are medical devices that are used in plastic surgery for both cosmetic breast augmentation and for breast reconstruction. Once implanted inside a woman's body, identification of the implants may prove difficult, and currently relies on a card given to the patient as well as on the patient's medical record in the plastic surgery practice. This suboptimal system, as well as recent issues surrounding PIP breast implants from France, including complications such as rupture of the implants, brought to light the potential need for a better method of identifying breast implants in patients after their plastic surgery. The US based company VeriTeQ is currently developing unique device identification (UDI) using radio frequency technology to allow for breast implant tracking. Microchips rely on radio frequency identification (RFID) to allow for appropriate device identification. These microchips are temperature resistant and would be used during the manufacturing of breast implants.
Breast implants including saline and silicone gel filled implants have been deemed safe and are cleared by the FDA for breast augmentation and reconstruction surgery. However, saline and silicone breast implants may not remain in perfect condition for a woman's entire lifetime and there may be problems associated with implants that manifest after implantation. In some cases, breast implants may need to be removed and possibly replaced. Microchip implant tracking would allow for correct selection of those patients who need to have surgical re-operation in case of implant failure or of device recall for safety reasons. In addition to breast implants, microchips could be also be used in other medical devices outside the field of plastic surgery.
Prior to undergoing breast augmentation or breast enhancement procedures, make sure you discuss all aspects of your cosmetic surgery with your plastic surgeon. Dr. Olivia Hutchinson is a board certified plastic surgeon in NYC with a practice dedicated to aesthetic plastic surgery of the face, breast and body. Our office on the Upper East Side of Manhattan is equipped with a fully certified AAAASF Operating Room for the safety, privacy and comfort of our patients. To schedule a consultation with Dr. Hutchinson, please contact us or call us at (212) 452-1400.
Posted in: Medical News