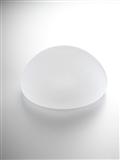 Millions of women around the world have undergone breast augmentation surgery with saline and silicone implants. The currently available implants in the USA are safe and FDA approved. A very rare form of cancer, anaplastic large cell lymphoma (ALCL), is a type of non-Hodgkin's lymphoma, and has been found infrequently in women with breast implants. In France earlier this month, the Minister of Social Affairs, Health, and Women's Rights issued a news release requiring a warning label on all silicone breast implants, stating they carry a risk of this rare cancer. The reported number of ALCL cases in France is 18 out of a total of over 400,000 women with implants. The recommendations including routine surveillance with clinical examinations and mammograms, but did not advise removal of the implants.
In the United States, ALCL of the breast is exceedingly rare, and is only diagnosed in 3 in 100 million women per year. Worldwide, fewer than 140 cases of ALCL have been reported, out of an estimated 10 million women with breast implants. It has not yet been determined if the risk is higher in textured or smooth walled silicone implants. Most often, this malignancy is associated with late onset persistent peri-implant seroma, a fluid collection which can form around the implant. Prognosis is generally good and treatment involves removal of the capsule and fluid surrounding the implant, as well as of the affected implant.
If you're considering breast augmentation, it is imperative that you engage in a comprehensive discussion with your plastic surgeon before your surgery, and understand all the options, risks and complications of the surgery.
Dr. Olivia Hutchinson is a board certified plastic surgeon in NYC, with advanced specialized training in aesthetic surgery of the face, breast, and body. Her office on Manhattan's Upper East Side is equipped with an Operating Room fully certified by AAAASF for the safety, comfort, and privacy of her patients. To schedule a consultation with Dr. Hutchinson, please contact us or call us at (212) 452-1400.
To find out more about ALCL and breast implants, this latest article titled "Anaplastic Large Cell Lymphoma Occurring In Women With Breast Implants" in the Journal of Plastic and Reconstructive Surgery offers additional information.
Posted in: Medical News