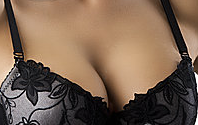 Women who suffer from excessively large and pendulous breasts may consider breast reduction surgery (reduction mammaplasty) to improve their appearance. This procedure reduces the size and volume of the breasts, repositions the nipple into a higher position, removes excess skin and reshapes the breast. Thus in addition to reducing the breasts, this surgery also includes a breast lift component. Plastic surgeons may choose from a variety of techniques to achieve the desired results. Traditional breast reduction surgery involved the use of an inverted T pattern, resulting in an anchor shape scar that extended around the nipple, vertically down the front of the breast, and underneath the breast in the inframammary fold. Newer techniques have sought to limit the scar to only that around the nipple and the front part of the breast – a lollipop type scar. This eliminates the need for the longer scar under the breast and potential complications associated with healing of the incision in that area. Alternatively, some breast reductions may be performed using only an incision around the nipple (periareolar) or using liposuction with tiny access incisions which leave almost no trace of a scar.
A new study published in Plastic and Reconstructive Surgery compares the rates of complications in patients who underwent breast reduction surgery using either the short scar technique or traditional surgery. The findings demonstrate that although low, the risk of adverse events after breast reduction, such as infection, fluid collection, and need for re-operation, was similar regardless of which procedure was used. This latest study, reviewing data from breast reduction performed on 100 patients, corroborates prior evidence that the procedure is safe for patients. The limited incision also confers an advantage to those patients who are interested in or may benefit from a shorter scar. Make sure to discuss your wishes and expectations from breast reduction surgery with your plastic surgeon to determine which procedure is best for you. For some women, reduction mammaplasty may be performed as part of a mommy makeover, or combined with other procedures such as body contouring with liposuction or abdominoplasty (tummy tuck), or facial rejuvenation procedures such as a neck lift or eyelid lift.
Dr. Olivia Hutchinson is a board certified plastic surgeon in NYC whose practice is dedicated to aesthetic plastic surgery of the face, breast and body. Her office on Manhattan's Upper East Side is equipped with a fully certified AAAASF Operating Room for the safety, convenience and privacy of her patients. To schedule a consultation with Dr. Hutchinson, please contact us or call us at (212) 452-1400.
Posted in: Medical News