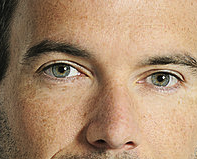 Men are increasingly seeking to improve their appearance and maintain a youthful look as they age, and statistics from the American Society of Plastic Surgeons confirm this trend. In keeping with taking care of themselves with proper diet, regular exercise and a healthy lifestyle, many men are also complementing their daily routine with skin care and additional procedures. Plastic surgery for men has traditionally consisted of procedures for the face and neck such as blepharoplasty for droopy eyelids or lower lid bags, facelift and necklift for improving facial and neck laxity, jowling and excess skin and fat under the chin, and rhinoplasty for reshaping the nose. Men have also been candidates for body contouring procedures with liposuction to eliminate love handles and correct gynecomastia.
As men continue to lead active lifestyles into middle age and far beyond, they are increasingly seeking to match their outward appearance with their inner younger selves. Some men are looking to compete with younger colleagues when searching for new position in the workforce, others are retiring and still very much concerned with their looks. In addition to the plastic surgery procedures that offer significant results, there are many newer treatments that incur little or no down time, have minimal complications and yet produce some visible improvements. These procedures target signs of aging such as fine lines and wrinkles, skin hyperpigmentation and blotchiness, and loose, sagging skin. Botox and fillers such as Juvederm have long been favorite treatments, as well as skin resurfacing procedures including laser treatments and chemical peels. More options have now entered the field of cosmetic surgery, with ultrasound, radiofrequency and fractionated laser treatments. Men and women who are considering plastic surgery for facial or body rejuvenation should consult with a plastic surgeon to discuss which therapy, alone or in combination with surgery, is best suited to satisfy their demands for a better, younger appearance.
Dr. Olivia Hutchinson is a board certified female plastic surgeon in NYC and specializes in aesthetic plastic surgery of the face, breast and body. She practices in her office off Park Avenue in Manhattan's Upper East Side, which offers a fully AAAASF certified Operating Room for the safety, privacy and convenience of her patients. To schedule a consultation with Dr. Hutchinson, please contact us or call our office at (212) 452-1400.
Posted in: Medical News