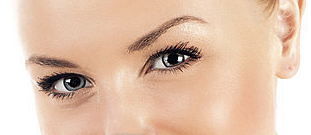 We often start to notice bags under our eyes as one of the earliest signs of aging. This area contains several tissue layers that can manifest changes with passage of time, in addition to possible genetic predisposition to unsightly bulges in our lower lids. Wrinkles appear as a result of muscle contraction, from skin thinning and loss of elasticity with age, and from sun exposure and smoking. The fat compartments below the skin and muscle tend to retain water, and may also appear more prominent due to swelling from allergies, alcohol intake and sleep deprivation.
Current treatment options to improve lower eyelid appearance include Botox® injections and skin resurfacing with lasers or peels to minimize wrinkles (crow's feet) and produce smoother skin. Fillers such as Juvéderm® and fat injections can camouflage the tear trough deformity and blend the step off between the soft tissues and bony orbital rim in that area. Lower eyelid surgery (blepharoplasty) is the only option that permanently removes excess fat from under the eyes, lifts and tightens eyelid skin and eliminates any excess. Patients who only require removal or repositioning of fat may undergo the eyelid lift using a scarless approach from within the lower eyelid.
A new product to correct undereye bags called Strateris, soon to be released by the same company that manufactures Restylane (a hyaluronic acid filler) and Dysport (a Botox alternative), is expected this spring. This temporary fix is applied topically to the skin of the lower lids and forms a transparent film that compresses baggy lids. Once it is removed, there is no effective change in the skin's previous appearance, so results are limited to the few hours the product is in place. This alternative is analogous to using adhesive breast lift tape for perkier breasts rather than a breast lift operation or Spanx instead of tummy tuck surgery.
Once you decide what aspects of your eyes you want to improve, as well as how long you want the results to last and how much down time you're willing to allow for recovery, you should consult with an experienced plastic surgeon to discuss all possible treatment options and decide which is best for you.
Dr. Olivia Hutchinson is a board certified female plastic surgeon in NYC with a private practice dedicated to aesthetic plastic surgery of the face, breast and body. Her office on Manhattan's Upper East Side boasts a fully certified AAAASF Operating Room for the safety, privacy and comfort of her patients. To schedule a consultation with Dr. Hutchinson, please contact us or call us at (212) 452-1400.
Posted in: Blepharoplasty - Eyelid Lift, Medical News