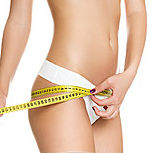 Despite the extreme cold spell we're experiencing, spring will soon be upon us. With the warmer weather come fewer layers and lighter wardrobe. Women and men are both apt to once again pay attention to some areas of their body that they would like to look better. Target areas for women include the belly, flanks, thighs, hips, "saddle bags", buttocks and arms; men most often wish to improve their abdomen, "love handles", and chest area for male breast reduction (gynecomastia correction). Liposuction is still considered the gold standard for fat removal and body contouring, but newer treatment options are garnering much media attention. If you're not sure what to believe, here are a few helpful points:
Non invasive fat reduction procedures offer various technologies – high frequency ultrasound, freezing (cryotherapy), and radiofrequency to name the most common types
Most non invasive procedures require multiple treatment sessions spaced several weeks or months apart – and only produce minimal results (e.g. 1 or 2 inch smaller waist circumference)
The greatest benefit of non invasive procedures is that they require no down time for recovery – some are painless but others can produce various amounts of pain and may not be as well tolerated
Like liposuction, non surgical body contouring options produce best results and are best suited for patients who already enjoy a healthy lifestyle including regular exercise and nutritious diet – they should not be relied on as a means of weight loss
Fat may be harvested by a method similar to liposuction and injected into other areas of the body to improve appearance. For instance, fat grafts obtained from the abdomen or thighs can be used to add volume to cheekbones, plump up lips, or correct laugh lines in the face. When performed correctly and in appropriately selected patients, liposuction can produce a significant improvement in body shape with minimal down time and quick recovery.
Dr. Olivia Hutchinson is a board certified female plastic surgeon in NYC with a private practice dedicated to aesthetic plastic surgery of the face, breast and body. Her office in Manhattan is equipped with a fully certified AAAASF Operating Room for the safety, privacy and comfort of her patients. To schedule a consultation with Dr. Hutchinson, please contact us or call us at (212) 452-1400.
Posted in: Body Contouring