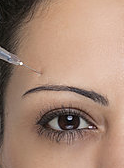 Botox® has been used by aesthetic plastic surgeons and dermatologists for decades to lessen the appearance of wrinkles on the face. The effects, although temporary and lasting only 3 to 4 months, are noticeable and result in a more youthful appearance. The product is used on facial muscles under the skin, reducing their contraction and thereby diminishing the wrinkles they create. Botox® is FDA cleared for use on the frown lines where the "eleven" or "parentheses" lines produce a worried appearance, and on the outer corners of the eyes where crows feet form. In addition, Botox® may be used to lift the brow, smooth wrinkles on the forehead and lessen muscle bands in the neck that become more pronounced with age. Medical uses of Botox® include treatment for migraine headaches and for excess sweating.
In a new study conducted by plastic surgeons in Canada and published in JAMA Facial Plastic Surgery this month (1), the anti-aging effects of Botox® on the skin – including an increase in the amount of elastin and collagen – were demonstrated for the first time. The mechanism by which this occurs has not yet been fully elucidated, and further investigations could potentially yield additional information as to why Botox® treatment produces smoother, younger looking skin. These skin rejuvenating results are in addition to the wrinkle elimination produced by the effect of Botox® on the underlying muscles. Yet another reason why regular visits to your cosmetic surgeon really could make you look years younger!
Dr. Olivia Hutchinson is a board certified aesthetic plastic surgeon on Manhattan's Upper East Side. Her practice is dedicated to cosmetic plastic surgery of the face, breast and body. Her office off Park Avenue in New York City offers a fully AAAASF certified Operating Room for the safety, comfort, and convenience of her patients. To schedule a consultation with Dr. Hutchinson, please contact us or call us at (212) 452-1400.
1. Bonaparte, James P. and Ellis, David. Alterations in the Elasticity, Pliability, and Viscoelastic Properties of Facial Skin After Injection of Onabotulinum Toxin A. JAMA Facial Plast Surg. Published online May 21, 2015. doi:10.1001/jamafacial.2015.0376
Posted in: Medical News