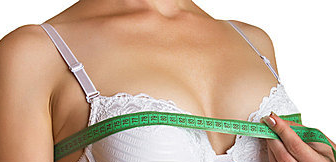 Patients who undergo breast augmentation surgery usually have a smooth recovery and are happy with the results of their surgery. As with any surgery, there are potential complications. One complication specific to breast augmentation surgery is capsular contracture, which may occur with both saline and silicone breast implants. Normal healing after placement of breast implants involves the formation of a capsule around the implant, a special tissue that surrounds the implant along its entire surface. In some cases, an abnormal response occurs, resulting in a capsule that becomes increasingly hard and painful. The reason capsular contracture develops in some patients remains elusive. Certain factors are associated with a higher risk of developing capsular contracture, and the latest study in Plastic and Reconstructive Surgery (1) examines breast augmentation with round silicone implants and further illuminates some of the factors that increase the risk of this particular complication.
The results of the study show an overall risk of developing contracture of 7.6% per device over a 5 year period, and include a risk factor analysis which concludes that the following are associated with a higher risk:
Implant surface characteristics: smooth surface has greater risk than textured shell
Incision site: periareolar (around the nipple) has greater risk rather than inframammary (under the breast) incision
Location of implant: subglandular (under the breast) has greater risk than submuscular (under the pectoralis major muscle) placement
Post-operative hematoma or seroma increases the risk of contracture
Size of implant: smaller implants have a slightly higher risk of contracture
Treatment of capsular contracture may include administering medication as well as possible revision augmentation surgery and removal of the abnormal capsule (capsulectomy). Many factors – including implant size, profile, and desired aesthetic result – should be considered when deciding which implants to choose for your breast augmentation surgery. Understanding the various options in terms of cosmetic results and potential complications should all be discussed with your plastic surgeon.
Dr. Olivia Hutchinson is a board certified female plastic surgeon in NYC with a practice dedicated to aesthetic plastic surgery of the face, breast and body. Her office on Manhattan's Upper East Side offers a fully AAAASF certified Operating Room for the safety, comfort and convenience of her patients. To schedule a consultation with Dr. Hutchinson, please contact us or call us at (212) 452-1400.
1. Stevens, W. G. et al. Risk Factor Analysis for Capsular Contracture: A 5-Year Sientra Study Analysis Using Round, Smooth, and Textured Implants for Breast Augmentation. Plastic & Reconstructive Surgery: November 2013 – Volume 132 – Issue 5 – p 1115–1123 doi: 10.1097/01.prs.0000435317.76381.68
Posted in: Medical News