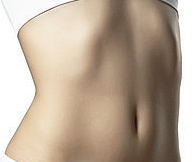 Pregnancy and circulating hormones during and after childbirth cause significant physical changes in women's bodies. Even after they've shed their "baby weight" – weight gained during pregnancy – many women notice other changes in their appearance. Often, their abdominal rectus muscles stretch out, their bellies loosen and the skin stretches, and their breasts sag after breastfeeding. For some mothers, changes may be different or more subtle. Some may have small fat deposits around their waists or thighs that won't go away despite maintaining a healthy lifestyle and exercise routine. For others, the more bothersome change is in the appearance of their labia, which may become elongated and uncomfortable. In addition, the fact that women are having children at more advanced age means many moms have less skin elasticity, which results in somewhat decreased ability for their body to regain its pre-baby form.
There are numerous procedures that may be combined to create a mommy makeover, and each one of these makeovers can be individually tailored to each mother. A few include:
Liposuction to remove stubborn fat deposits
Abdominoplasty to tighten rectus muscles and remove extra belly skin and fat
Breast lift with or without implants, to reshape droopy breasts and restore lost volume
Breast reduction to remove excess breast tissue and reposition low set breasts
Labiaplasty to create more attractive external genitalia and remove bulk in the area
Facial rejuvenation procedures with fat injections, peels, and micro needling to restore volume, diminish pigmentation and improve skin tone
Each patient's needs may be addressed by combining some of these procedures, many of which may be performed concurrently. Choose a board certified plastic surgeon experienced in aesthetic plastic surgery to discuss your wishes and help you decide which surgery will be best for you.
Dr. Olivia Hutchinson is a board certified female plastic surgeon in Manhattan with advanced specialized fellowship training in aesthetic plastic surgery of the face, breast, and body. Her office in NYC's Upper East Side is equipped with a fully certified AAAASF Operating Room for the safety, comfort, and privacy of her patients. To schedule a consultation with Dr. Hutchinson, please contact us or call us at (212) 452-1400.
Posted in: Medical News