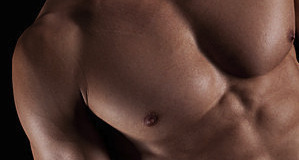 Gynecomastia is a medical condition that describes the growth of breast tissue in men. Commonly first noted during puberty in teenagers or adolescents, it can cause social embarrassment and have a negative psychological impact on affected boys. It may also manifest in adult men and although in most cases there is no clear cause, there are more than 90 drugs that have been linked to the condition. The list of implicated medicines includes antidepressants, antibiotics, and ulcer, heart, and HIV medications. In addition, gynecomastia is seen in bodybuilders who use anabolic steroids, men who are overweight or obese, who use Propecia to prevent hair loss, and who self-administer testosterone, which is broken down in the body to a compound similar to estrogen.
It is known that THC (tetrahydrocannabinol), the active ingredient in marijuana, can affect a myriad of hormones in the body. As originally published 40 years ago in the New England Journal of Medicine, cannabis has "widespread effects on multiple hormonal systems, including gonadal, adrenal, prolactin, growth hormone, and thyroid hormone regulation." When the normal balance of hormones is disrupted, estrogen levels increase and stimulate the development of breast tissue. Thus the link of smoking weed to "man boobs", also referred to as "doobies make boobies" or "doobs cause moobs".
Plastic surgery for correction of gynecomastia which does not resolve after puberty or with discontinuation of medication or smoking pot involves surgically removing the breast tissue from above the pectoralis muscle. In mild to moderate cases, this can be performed with liposuction alone using tiny incisions on the chest. In more severe cases where there is significant excess skin as well as breast tissue, male breast reduction may also require skin excision and possible nipple repositioning to achieve the best outcome. These cosmetic procedures usually produce immediate results and have a quick recovery. Be sure to have a comprehensive consultation with your plastic surgeon to discuss which surgical option is best for you.
Dr. Olivia Hutchinson is a board certified plastic surgeon in NYC and performs aesthetic plastic surgery of the face, breast and body. Her office on Manhattan's Upper East Side is equipped with a fully certified AAAASF Operating Room for the safety, privacy and convenience of her patients. To schedule a consultation with Dr. Hutchinson, please contact us or call us at (212) 452-1400.
Posted in: Medical News