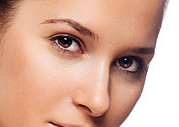 One of the first areas on our faces we notice the signs of aging is around our cheeks. With time, we lose the fullness and roundness that characterize a youthful face. Our midface becomes flatter, less curved, our skin becomes thinner and sags, fine wrinkles form around our lower eyelids and our laugh lines become more pronounced. Minimally invasive procedures that address all these concerns are advantageous because they offer noticeable, immediate benefits, leave imperceptible scars, and require almost no downtime. Fat injections are particularly worthwhile because not only do they improve volume loss by restoring shape and contour but they also have age reversing properties on the skin itself.
A new study just released in the plastic surgery literature once again supports the beneficial age reversing properties of fat injections, (1) in conjunction with the effects of stem cells which are contained within the fat itself. The study confirms the fact that autologous fat injections, which use fat harvested from a patient's own fatty deposits from areas such as the abdomen or thighs, promote skin rejuvenation by improving circulation and reducing elastosis, a characteristic of aged skin. The skin develops a more youthful appearance with better tone and color. By refilling deflated faces and improving skin quality, autologous fat injections can often delay the need for more invasive cosmetic surgery procedures such as a facelift. They may be also performed in conjunction with other aesthetic surgery such as eyelid lift, rhinoplasty, liposuction and breast enhancement.
Dr. Olivia Hutchinson is a board certified female plastic surgeon in New York City with advanced specialized training in aesthetic surgery, and her practice is dedicated to aesthetic plastic surgery of the face, breast, and body. Her office off Park Avenue on Manhattan's Upper East Side offers a fully AAAASF certified Operating Room for the safety, privacy, and comfort of her patients. To schedule a consultation with Dr. Hutchinson, please contact us or call us at (212) 452-1400.
1. Charles-de-Sa, L et al. "Antiaging Treatment of the Facial Skin by Fat Graft and Adipose-Derived Stem Cells". Plast Reconstr Surg 135(4): 999-1009, April 2015.
Posted in: Medical News