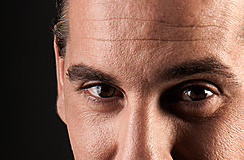 Women are not the only ones who are aware of their appearance, and more men are interested in plastic surgery procedures to make them look younger, better, or healthier. Botox® injections, fillers and facial skin peels are examples of the types of minimally invasive beauty enhancing and anti-aging treatments that appeal to men. More invasive surgical options, which yield significant results and may be performed concurrently or separately, include neck lift, eyelid lift and liposuction. Commonly referred to as "Brotox", the use of Botox® in men most frequently is used to target wrinkles in the forehead, frown lines between the brows (the "11's") or low eyebrows. When evaluating men's faces, the aesthetic is usually different from what women may wish for. Most men request a reduction in the appearance of forehead lines, but do not want to look unnatural, or "frozen". In addition, the muscles in men's faces are usually somewhat thicker than women's, and different amounts may be needed to achieve the desired result. Sometimes a combination of procedures, such as Botox® to neutralize the muscles and filler (Juvederm®) to fill in deep set creases, provide the best correction. Another use for Botox® that benefits men and women is its use to treat axillary hyperhidrosis, or excessive sweating of the underarms.
If you're considering having Botox® injections to improve your appearance, make sure to consult with a medical specialist who is experienced in the procedure. As with any cosmetic treatment, there are potential risks and complications which should be discussed prior to undergoing treatment. The effects of Botox® can be observed within several days after injection and usually last at least 3 to 4 months. There is minimal discomfort associated with the procedure and most patients are able to return to work immediately, hence it is usually considered one of the "lunch-time" procedures.
Dr. Olivia Hutchinson is a board certified plastic surgeon in New York City with an office off Park Avenue on Manhattan's Upper East Side. Her aesthetic surgery practice is dedicated to plastic surgery of the face, breast and body. The office boasts a fully accredited AAAASF Operating Room for the safety, privacy and comfort of her patients. To schedule a consultation with Dr. Hutchinson, please contact us or call us at (212) 452-1400.
Posted in: Medical News