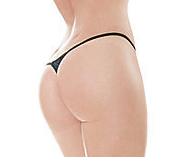 The buttocks – also known as gluteus maximus, posterior, derriere, booty, and some less socially acceptable terms – have been a focus of plastic surgery procedures recently. As with any other part of our body, when it comes to beauty and enhancement there are various different aesthetic ideals, based on patient preference as well as ethnic and racial differences. Some patients wish their backsides reduced with liposuction, others want them increased and lifted. Multiple plastic surgery procedures are available for buttock augmentation, including the use of silicone implants and fat grafting or fat injections to achieve the desired results. The Brazilian Butt Lift uses fat that is obtained from other parts of a patient's body – such as the abdomen, flanks or thighs – to augment and lift the buttocks. When performed correctly, this type of procedure can produce significant enhancement of the posterior using fat injections. Unfortunately, some non-medical individuals have jumped on the bandwagon of buttock augmentation by offering cheaper, illegal injections with unsafe materials such as household use silicone, and with potentially disastrous results and complications, as reported in the latest news about an arrest in Florida.
Plastic surgeons are well trained medical professionals who are licensed to perform surgery on the entire body for both aesthetic and reconstructive purposes. Make sure you have a full discussion with your plastic surgeon about surgical alternatives, treatment options, and risks and benefits of any procedure before deciding to go ahead with any beautification procedure.
Dr. Olivia Hutchinson is a board certified plastic surgeon in NYC with a practice dedicated to aesthetic plastic surgery. Her office on Manhattan's Upper East Side offers a fully accredited AAAASF Operating Room for the safety, privacy and convenience of her patients. To schedule a consultation with Dr. Hutchinson, please contact us or call us at (212) 452-1400.
Posted in: Medical News